Personalized Integration Path
The Ministère de l'Immigration, de la Francisation et de l'Intégration (MIFI) is setting up a new direct support service for immigrants: the Personalized Integration Path. Through the presence of integration assistance agents in all the regions of Québec and in collaboration with partner organizations and ministries, the Personalized Integration Path will enable the needs of immigrants to be assessed and to better meet them, thus contributing to their successful francization, integration and participation in Québec society.
A human and personalized approach

From abroad: With the Personalized Integration Path, it is expected that immigration applicants will ultimately be invited to contact integration assistance agents directly in order to find out about all the services available regarding francization and integration before arriving in Québec: French courses, skills recognition, online integration services, information sessions on Québec and its regions.

In Québec: Upon their arrival at the airport (through an international, trans-border or domestic flight), immigrants will be greeted by a MIFI employee who will make an appointment for them with an integration assistance agent within five business days. Based on each person's profile and life projects, a personalized action plan will be established in order to support and direct each person towards the appropriate resources for his or her needs.
Support sustained throughout the Path
The personalized action plan covers four areas: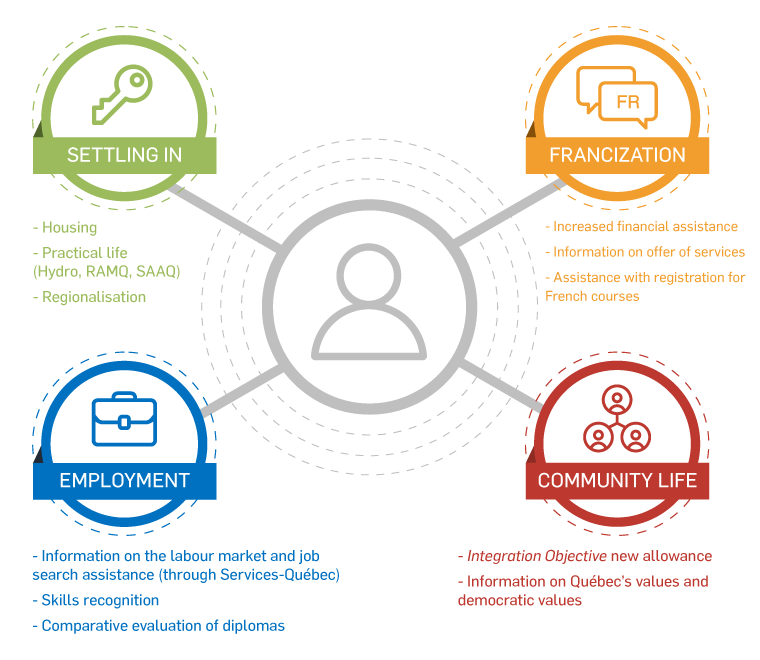 The action plan can be re-adjusted according to each immigrant at any time. Immigrants are assisted and supported throughout their integration process by their integration assistance agent.
Gradual implementation
The Personalized Integration Path is being implemented gradually. It will be available everywhere in Québec in June 2020.
Useful links